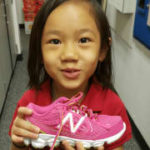 Website Shoes That Fit
Los Angeles Kids In Need Of New Shoes
Many children in southern California lack proper shoes for school. Their shoes are too small, too big, or so worn they have to stuff stuff cardboard in the soles. Some share shoes with siblings or parents and miss school when it is "not their turn" to wear the shoes.
But you can change everything for a child in need with the simple gift of a pair of shoes.
Start your own Shoes That Fit chapter and help children in need of new shoes for school in your own community. It's easy and we can help you get started right away. We can only reach where we have volunteers and donors (you and your business, friends, faith-based organization, club, etc.) to help.
84% of school staff report that students who receive new shoes through their local Shoes That Fit chapter show an increase in self-esteem. 75% participated more in physical activities and 41% showed an improvement in attendance.
Contact today to get started help children in your own backyard and spread the smiles that come with a new pair of shoes!