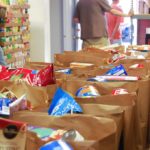 Website Shepherd's Pantry
Hope and a helping hand
Shepherd's Pantry is helping to shoulder the burden. But we can't do it alone. One day per week,
one shift can make all the difference. We have the following service opportunities available at
our Irwindale location:
Truck Drivers: Monday – Saturday 8:00am-11am
Pick up donated items from selected vendors in Shepherd's Pantry delivery truck and deliver to
one of our 3 locations. Requirements: Must be able to lift up to 40lb. A valid driver's license, and
proof of insurance, is required.
Food Distribution: Tuesday – Thursday, 4:45pm – 7:00pm
Fill bagged food orders based on Food Vouchers given by the client. Take food in a shopping
cart to the client's car and unload it. Requirements: Must be able to lift to 15lbs.
Food Sorters: Monday – Saturday, (Hours vary)
Sort donated food and prepare parcels for distribution. Requirements: Ability to lift to 40lbs.
Client Office Support: Tues, 4:45-7pm.
Data input and 'running' to bring client I.D. to Data Input Volunteer, from cars during food
distribution.
Homeless Food Distribution: Mon/Wed/Fri, 10:00am – 12:00pm
Provide packaged food and clothing to homeless individuals.
Food Delivery: Tuesday 4-6pm – Pick up food at
pantry and deliver to those unable to leave their homes.
Office Support: Morning Hours vary
Answer phones and support potential volunteers and clients. Help maintain database of clients.
Select a shift that works best with your schedule. Face masks and gloves are available to all
volunteers and physical distancing is being enforced.