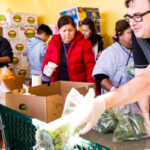 Website Second Harvest of Silicon Valley
Help us sort and box the fresh produce and healthy groceries we provide to neighbors in our community. Shifts are available at our Cypress Center in San Jose.
Requirements:
The minimum age is 14, and all volunteers ages 14 to 17 must have a signed electronic permission slip on file at least 48 hours before volunteering. In addition, there are chaperone requirements for youths ages 14 and 15 (1 adult for every 5 youths). Individual 16 and 17 year olds can volunteer without a chaperone but groups of 16 and 17 year olds do require chaperones (1 adult for every 10 youths). Some volunteer opportunities have other age requirements.