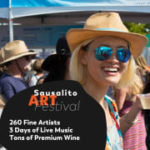 Website Sausalito Art Festival
It takes a village to run the Sausalito Art Festival, and every year more than 1,200 dedicated, engaged, community-minded and fun volunteers step up to make the three-day event happen!
Volunteers enjoy the satisfaction of being part of a community that makes this world-class event a reality in their own backyard. Friendships are often developed that last well beyond the Festival and many times volunteers participate as families, friends, or work/school-related groups. Working at the Festival gives participants an exclusive, behind-the-scenes appreciation of the artists and art that make the Festival so enticing and fun.
Volunteers must be at least 14 years old.