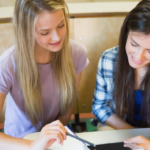 Website satprep_tutorin SATutoring
SATutoring matches high school students with qualified tutors.
Are you a high school student interested in tutoring the PSAT/SAT to your peers and earning volunteer hours? Are you a good standardized test taker? Do you possess patience and good teaching and adaptability skills?
If this is you, you're fit to join our team of wonderful tutors!
All we ask of you is to devote at least two hours from your week to tutoring your peers.
In order to apply for this role, click the "Inquire to Volunteer" button! The application should take no more than ten minutes!