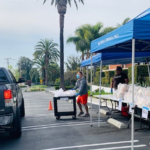 San Pedro & Peninsula YMCA
Help us serve food to children and families at one of our "Grab & Go" sites. All safety and health measures are taken to ensure your well-being as we provide much-needed meals to our neighbors.
Volunteers are asked to bring and wear a personal face covering (mask, bandanna, other) that will cover the nose and mouth while at the event.