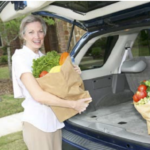 San Mateo Senior Center: City of San Mateo Residents
Qualifications: Ages 16 to 80+ are part of this program. The volunteer needs to be a licensed driver covered by insurance. Ability to take a list over the phone and to carry groceries is necessary; references are taken and are checked. Reliability and consistency are important.
Training: A one-hour orientation is held before client assignment.
Importance of Job: This job is VERY important because the shopper is enabling the homebound senior to remain independent and at home. Without this kind of support from the community, some seniors would be institutionalized. It's important to note this program is open to City of San Mateo adults with disabilities who cannot grocery shop on their own.
Responsibility: Either weekly or bi-weekly, the Volunteer contacts a (Shopping Assistance for Seniors that are Homebound) SASH client by phone to obtain a shopping list. Shopping is done at the time and place that is convenient for the volunteer. The groceries are then delivered and the volunteer is reimbursed immediately by check or cash. (The Volunteer is NOT allowed to transport the client.) The process is repeated with the same volunteer/client match, which helps foster a unique bond for both volunteer and client. Often a friendly relationship develops. The shopper is a critical link to the outside community for the client. They serves as eyes and ears to inform the SASH Coordinator of any other needs their clients may have.