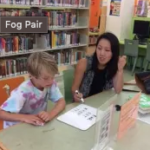 Website San Francisco Public Library
Spend just an hour a week and help ensure success for a young person!
San Francisco Public Library is bringing its FOG Readers program to the Main Library and to many branch locations, to help young people catch up to grade-level reading or strengthen their skills.
We are seeking volunteers to work one-on-one with students using the FOG (Free Orton-Gillingham) Readers method, which employs multisensory learning, phonics-based instruction, and other tools to demystify the process of reading.
Volunteers will attend three 2 hour training sessions and then be matched with an elementary school student. Volunteers and their learners will meet at least once a week at the library after school, in the evenings, or on the weekend. SFPL will provide all materials and training, as well as offer ongoing support.
Volunteers should:
Enjoy working with young people and exhibit patience
Be at least 15 years of age
Be willing to undergo a standard fingerprinting and background check (Requires SSN)
Commit to the three training sessions and at least one hour of tutoring per week for at least 6 months
Be excited to share a passion for reading!
Benefits of volunteering:
Make a meaningful, lasting difference for a child by building critical literacy skills.
Serve your community
Learn valuable skills tutoring and mentoring that can be applied to other areas of life
Our next training sessions (all three are required) will take place in the meeting/training room in the Main Library Children's Center (100 Larkin Street) located on the 2nd floor on:
Tuesday, August 13, 6:00 – 8:00 pm
Wednesday, August 14, 6:00 – 8:00 pm
Thursday, August 15, 6:00-8:00 pm