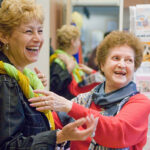 Website San Francisco Campus for Jewish Living
Join our lively crew of volunteers and staff in the Oy Vey Café. Provide over-the-counter food service to residents and their families and friends. Café hours are Mondays through Fridays, 8:00 a.m.-3:30 p.m., and Sundays, 11:00 a.m.-2:30 p.m. Shifts are flexible. Volunteers can come in for two hours or more once a week, or once every other week.
Volunteers are needed for various times to oversee the cash register and/or counter area. Hours can be arranged. You do not need to be Jewish to volunteer at the SF Campus for Jewish Living.