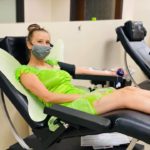 San Diego Blood Bank
Interested in a long-term volunteer opportunity?
Volunteers with San Diego Blood Bank use their skills and talents to support the mission of saving lives. Your gift of time can make a lasting impact in our community.
Reasons to volunteer with San Diego Blood Bank:
Make a difference in the lives of others
Connect with the community
Flexible volunteer hours
Satisfy community/school hours
Volunteer appreciation events
We value the skills of each volunteer and work hard to match your strengths with our community's needs.
Opportunities include:
Bloodmobile Greeter
Blood Donor Advocate
Special Events
Office Administration/Special Projects
*Please Note: We do not have volunteer positions for phlebotomy.
Learn more about our volunteer roles and get started:
Visit the Volunteer Portal (third-party site): https://app.betterimpact.com/PublicOrganization/440138e7-f5aa-4606-add0-fbb0e0a3da45/1
Read the Volunteer Handbook
Create a profile and fill out an application
Complete the online orientation and training
Start saving lives!
To inquire about volunteer opportunities, please email volunteer@sandiegobloodbank.org or call (619) 400-8137.