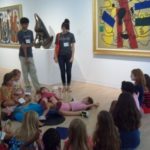 San Diego Art Institute
San Diego Art Institute (SDAI) Gallery Attendants greet guests, respond to inquiries about the exhibition, monitor the safety of the artwork on view, and maintain a clean and orderly environment. They may be the only people a visitor meets from the organization, so they are a key face and voice to represent our mission, vision and values in the highest light.
Tasks:
Attend a 1-2 hour training workshop and exhibition walk-through, learn study guide materials provided by SDAI, and conduct your own research to prepare for the role.
Work at least 2 half or full shifts per month, Tuesday to Sunday, 12 to 5 PM.
Greet visitors as they arrive at the gallery, applying techniques learned in training.
Provide visitors with information about SDAI and the exhibit and artworks on view.
Educate visitors about artists behind works of interest and answer any questions asked of them.
Monitor exhibition areas and ensure guests do not touch, interfere with or pose a risk to the art by enforcing established rules and protocols.
Work the front desk on which will require training in handling admissions and gift shop sales.
Assist with opening and closing the show (lighting, computers, video and light maintenance).
During quiet times, assist with administrative work using a laptop provided by SDAI.