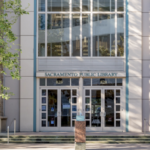 Website Sacramento Public Library
If you love to sew and want to give back to the senior community, the Sacramento Public Library has the perfect opportunity for you! We are looking for volunteers to create Fidget Blankets — lap-size blankets that provide sensory and tactile stimulation to those with anxiety and restless hands, including people living with Alzheimer's disease or another form of dementia. These blankets are equipped with "fidget" objects such as buttons, ribbons, zippers, rings, buckles, and pockets for the user to touch and play with.
Key Responsibilities:
Assemble and sew a Fidget Blanket from a kit using your own sewing machine and sewing notions.
Follow directions in the kit to ensure the blanket meets standards designed to be of most benefit to memory care residents.
When ready, follow instructions for no-contact pick up of materials from a SPL location.
Once complete, follow instructions for no-contact delivery of your finished product to a SPL location.