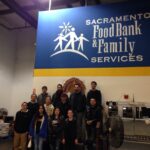 Website Sacramento Food Bank
We are honored that you have chosen to share your time and skills with Sacramento Food Bank and Family Services. We know you will find your place among our family of staff and volunteers. We look forward to working in partnership with you, as we provide services to people who come to the agency for assistance. We are committed to providing you with a positive and satisfying volunteer experience, and we appreciate your efforts in supporting our work.
Volunteer ages can be 10-64 (Volunteers between the ages of 10 and 15 must volunteer with an adult) and will help with food sorting/bagging at our Food Bank Campus. At this time no orientation is required.
We're wholeheartedly committed to combating food insecurity by ensuring our community has consistent and safe access to nutritious resources.