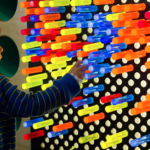 Website Sacramento Children's Museum
Being a volunteer at Sacramento Children's Museum is a great opportunity to get involved with our growing Museum and all we have to offer. SCM welcomes volunteers who have the same vision for providing children with a place where they are inspired, challenged, and nurtured. Whether it is helping create exhibits and programs, organizing fundraising events, or being a docent, there are a variety of fulfilling ways get to get involved!
How to Become a Volunteer
Please fill out the Volunteer Application online. Once you have filled out an application, you are required to attend a volunteer orientation before you can begin volunteering at the Museum. Volunteer Orientations are held monthly on the first Saturday of the month at 11am. at the Museum, located at 2701 Prospect Park Drive #120 in Rancho Cordova, CA. Please bring the following items with you to the volunteer orientation:
Photo ID (state- or school-issued)
If you are under the age of 18, please also bring a completed Parent Waiver and Release Form.
Please Note: Volunteers MUST be at least 14 years old or a high school freshman to participate. Please contact the Museum at volunteer@sackids.org for more information about our volunteer program.