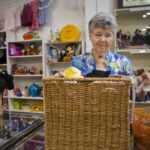 Website Sacks Hospice Thrift Store
Sacks is in need of volunteers.
Would you like to benefit your community in a fun and friendly atmosphere?
Do you enjoy interacting with customers or do you prefer to be behind the scenes?
Join our volunteer team and we will find the perfect fit for you!
Students are welcome to fulfill community service hours at Sacks.
​
We are looking forward to having you be a part of our team!
Volunteer Applications (found on our website)
For an application please visit the store or you may download both parts, fill out and drop off your application at:
​Hospice of Petaluma, 416 Payran Street.
​
Students, please download and complete our Student Volunteer Application Form and bring your application to the store.