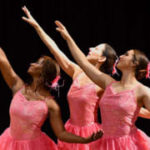 Website RUWACH EN JASMINE
Due to COVID, there are many ministries and businesses that have been affected. In collaboration with our podcast, Glorious Living, we would like to create an inspiring webisode series in which we spotlight local dance studios, dance ministries and choreographers in both Los Angeles & OC. We are seeking a film crew, to help us shoot a couple of hours on location, once a month. Each webisode will be a 30-minute show. We will adhere to social distancing guidelines.
You must be at least 16 years old.