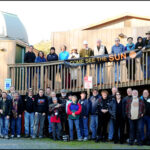 Website Robert Ferguson Observatory / Valley of the Moon Observatory Association
Robert Ferguson Observatory is offering its first ever virtual training! Come join this training via Zoom to become involved in volunteering for the observatory and help bring the mysteries of the universe to the public. The fall training dates include 10/29 11/5, 11/12, and 11/19, and run from 7:00pm – 8:30pm. For more information contact Stephanie at sd@rfo.org, or fill out an application online at https://rfo.org/index.php/volunteer/.
Robert Ferguson Observatory has offered outreach-based astronomy and science programs to the public for almost 25 years. RFO is almost all-volunteer run and typically serves about 9,000 visitors annually. The observatory is located in Sugarloaf State Park and houses a 40-inch reflector telescope, the largest telescope in Northern California that is accessible to the public; a robotic 20-inch research-grade, "CCD" telescope; and an 8", two-meter long refractor telescope.
Please note that teens under 18 need to volunteer with a parent during in-person programs.
For details about this opportunity, visit rfo.org.