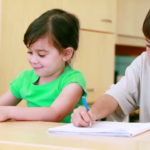 Website Resources For Community Development
Thanks for your consideration to improve youth lives in our community!
The vision for volunteers is to support K-8 residents on an ongoing basis to equally facilitate academic support while also participating in activities to spur social/emotional development. Primary tasks will include assisting the Youth Enrichment Coordinator to set up before the sessions, work with our students during programming, and conclude with a debrief. Our goal is to provide academic assistance, facilitate arts and crafts, and engage in activities centered on social development. The idea being to cultivate a space after-school that ultimately equips these youth with day to day, practical skills. This is a fun opportunity to build volunteer hours, be a positive influence in the lives of children, and have a great time!
Who should apply: This role is perfect for those passionate about education and motivated to help low-income youth, creating a positive impact for our communities. At least 14 years olds.
Additional requirements: Complete volunteer forms, a brief interview, volunteer orientation, and background screening prior to beginning your placement.