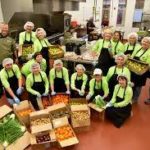 Website Redwood Empire Food Bank
Our volunteers are vital, helping us nourish 82,000 children, seniors, and adults in Sonoma County. Warehouse volunteer activities include gleaning and packaging fresh fruits and vegetables for individuals and families throughout our community, assembling grocery boxes for seniors in need, and sorting donated non-perishable foods for distribution throughout our service region. Please remember to wear closed-toed shoes, bring a bottle of water or 2, and if able, bring a bag of nonperishable food to further fight hunger in our community. Please bring your own mask. Youtube has some great videos on how to make a simple mask if you do not have one already.
*Due to COVID 19 we are limiting the number of volunteers per shift, each volunteer needs to be registered and signed up for the shift to attend. Thank you for understanding.*
We are still accepting volunteers and will continue to do so as long as we are able. We will be in contact if anything changes. Please check your email for any updates regarding your shift as we continue to monitor the fluidity of COVID-19. Thank you for understanding and for being flexible.
**Please plan on using the restroom before your shift. The building will be locked so we will not have a restroom available. **