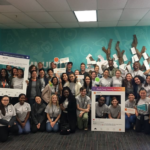 Website Reading Partners​
Volunteers will be tutoring students K- 4 one on one using Reading Partners curriculum and materials in one of Reading Partners reading centers located throughout the San Francisco Bay Area.
SKILLS REQUIRED: No skills or experience required. We provide all of the materials and training necessary to tutor in our reading centers.
REQUIREMENTS: You must be 14 years of age or older and if you are 18 years of age you will be required to complete a background check. All volunteers are required to attend a Tutor Orientation and complete a TB clearance.​​
An application is required along with a commitment of at least one hour a week for one or both semesters.​