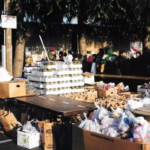 Website Rancho Cordova Food Locker
RCFL is powered by volunteers. We thank our many loyal volunteers who work tirelessly to help feed the hungry week after week, year after year. RCFL is a non-profit charitable organization and, as such, is covered under the "Good Samaritan Act." Volunteers are always needed, welcomed, and greatly appreciated! RCFL is normally flooded with offers to volunteer during the Thanksgiving and Christmas holiday seasons. So, our greatest need for volunteers is during the rest of the year – especially during the summer when many of our regular volunteers take vacations. Also, many local high school students volunteer in order to receive school credit for their extra-curricular activities. RCFL is open on Mondays, Wednesdays, and Fridays (except holidays). Volunteers normally begin daily preparations by around 8:30 a.m., but the operational hours for food distribution to the public are from 9:30 a.m. until 1:20 p.m. Closing activities are completed by 1:30 p.m.
Those interested in volunteering should read the following information and then call RCFL's Warehouse Manager, currently Mr. Gregg Huestis, at (916) 364-8973 during RCFL's normal operating hours to discuss specific details. If Mr. Huestis is unavailable, ask for Angela Russell. Both individuals are usually busiest during opening and closing activities. So, the best times to reach them are normally between approximately 10:30 a.m. and 12:30 p.m.
Volunteer Requirements
Age: Minors unaccompanied by an adult must be at least 14 years old. Minors between 10 and 14 years old must be accompanied by an adult for the entire shift. Children younger than 10 years old may not volunteer.
Physical Abilities: All volunteers must be in reasonably good health and be able to lift up to 40 pounds. It is highly recommended that volunteers have their own health insurance since RCFL is a non-profit charitable organization and does not provide health insurance coverage for volunteers.
Days: RCFL is normally open Mondays, Wednesdays, and Fridays (except we are closed on State and federal holidays and Good Friday). Volunteers are needed on a long-term basis and the Warehouse Manager requires a commitment. Volunteers may initially try a "test" shift to ensure compatibility with the volunteer's expectations. After the "test" shift, if the volunteer desires to continue volunteering for RCFL, then a specific schedule must be coordinated with the Warehouse Manager. Just as examples, a volunteer might request a 4 hour shift one day each week, or 5 hour shifts three days a week, or a 4 hour shift the first Monday each month. Once the Manager approves a shift schedule, the volunteer's long term commitment of at least 6 months is normally required.
Hours: The minimum shift length is normally 4 hours. The maximum shift is the duration of daily operations (normally about 5 hours, from 8:30 a.m. until 1:30 p.m.). Volunteers may select their desired shift days/hours after approval by the Warehouse Manager.
Absences: For staffing purposes, RCFL needs to know in advance (if at all possible) whenever a volunteer cannot fulfill their shift commitment (e.g., due to illnesses, medical appointments, family emergencies, etc.). That way, another volunteer can be asked to work the affected shift so that patrons service is not compromised.
Meals: Typically, volunteers are provided with a light lunch and a short break to eat it. However, occasionally RCFL may not be able to provide lunch for some reason. Volunteers should be prepared for that possibility. If a volunteer brings their own lunch, it may be kept in the walk-in cooler if desired. Since RCFL has no drinking fountain, chilled bottled water is normally provided to volunteers during their shift as desired.
Bathroom Facilities: Since RCFL has no bathrooms, the SJV gymnasium next door to RCFL has bathrooms available, but the gym doors are normally kept locked. A key to the gym doors is kept inside the processing trailer for volunteers' use. Volunteers may also use the "porta-potty" in front of the Thrift Shop adjacent to the RCFL processing trailer. Sanitary handi-wipes are available in the west shed next to the walk-in cooler.
Food Distribution Line: Volunteers will be assigned to a specific work station. Detailed instructions will be provided to new volunteers by the more experienced volunteers available that day at the assigned station.
Policies:
Patron Requests: On occasion, a patron may ask for cash or other special favors/services from a volunteer. In the interest of fairness, volunteers should respectfully decline because RCFL can only provide food assistance. We are unable to provide any other special help to its patrons. Volunteers may opt to refer those patrons requesting special help to the Program Manager, the Warehouse Manager, or to the St. Vincent DePaul office in the shed to the right of the RCFL processing trailer.
Taking Donated Food: Volunteers are NOT to take any food donations for their own personal use.
Eating Lunch: Because RCFL's patrons are very frequently hungry, volunteers are requested to eat their lunch out of patrons' sight in consideration of their difficult situation. For example, volunteers may eat in the food storage area north of the RCFL processing trailer, or in the east or west shed, or in their own vehicle.
Problems: If problems occur with equipment, patrons, or other volunteers, notify the Operations Manager or the Assistant.