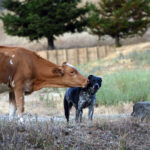 Website Rancho Compasión
Volunteers will have opportunities to help with the animals, work on expansion and renovation projects, and attend special events. Volunteering at Rancho Compasión is lots of fun! People from ages 13 – 113 are welcome and everyone must sign the waiver by clicking the 'Sign the Waiver to Volunteer' button on our website.
Are you a local? Our more regular volunteers come once or twice a week (or more, depending on your schedule), and help out with mucking the stalls, feeding the animals, and, of course, to give them lots of love! Get in touch with us if you are interested in becoming a regular volunteer.
Can only make it out here once in a while? We host weekly volunteer work days every Saturday. There's lots of work to be done! We'll frequently eat yummy vegan snacks, then build play structures, expand living areas and pasture, clean the stalls, feed and give love to the animals, and much more.
Please check our website for upcoming work days and updates about our schedule.