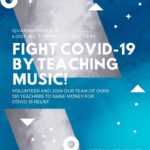 Website QuaranTunes
QuaranTunes pairs teen artists w/ kids to give virtual lessons!
If you're looking for an easy and fun way to accumulate community service hours from your own home and are a musician or artist of any level, you should check out QuaranTunes! QuaranTunes is a platform for connecting teen musicians & artists with children to provide virtual lessons. We currently have 130 teachers but the demand from our customers is so huge that we are in desperate need for more!! We have a few other QuaranTunes volunteers in this class and I'm sure they would all tell you it's a super fun and rewarding experience (as well as something that will look great on your resume & college apps :)).
We currently offer lessons in almost every musical instrument but are always happy to add on more, and our other creative art lessons consist of painting, creative writing, theater, creative writing, and many more. For more info check out www.quarantunes.site, or text me at (650) 924-5660 if you have any questions!