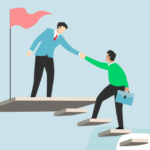 Website Project Verity
Project Verity's goal is to educate, create awareness, and work towards creating a better world for everyone. They create a positive and safe space for anyone and everyone. They inform people of current events and direct you to petition and donation sites. They also mentor, guide, and help students with whatever they need.
Mentors have the responsibility of helping their mentee with anything needed (school/life advice, college applications, be a listener and most importantly be a friend). As a mentor you will have the responsibility of meeting with your mentee at least once a week (this is the minimum amount, however you may meet up with your mentees as many times you'd like. Once a week is to ensure our mentees are getting quality help from our program). Meeting will be held virtually. Perks of being a mentor is that you may get volunteer hours from mentoring and from additional activities that Project Verity provides, you will be able to meet mentors and mentees from all over the world; creating great, lasting connections and most importantly be able to help someone with some of the crucial aspects of their life!