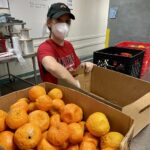 Website Project Open Hand
Description:
Volunteers assist with assembling meals in containers on a moving conveyor belt.
Qualifications:
Volunteers must be at least fifteen (15) years of age and be able to communicate in English. Volunteers must be capable of standing for long periods of time and be able to lift up to 20 pounds. Volunteers must be able to work well with others and be comfortable interacting with a culturally diverse population.
Shift Times: 10:00 am to 12:00 pm Monday through Friday
Dress Code: Minimum of a short sleeve shirt, closed-toe shoes, and long pants. You will be required to wear a hairnet or you can bring your own hat.
Volunteer Location: San Francisco