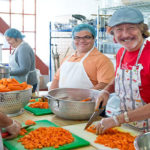 Website Project Open Hand
Every day, we prepare 2,500 nutritious meals and provide 200 bags of healthy groceries to help sustain our clients as they battle serious illnesses, isolation, or the health challenges of aging. We serve San Francisco and Oakland, engaging more than 125 volunteers daily to nourish our community.
At Project Open Hand, we rely on more than 125 volunteers every day to help prepare, package and deliver meals with love, and distribute groceries to sick and elderly neighbors. Volunteers also help us staff special events throughout the year.
Please be ready to make a 6-month commitment. For students, we ask you to commit to volunteering for 40 hours during one semester.
Provide an annual tuberculosis (TB) test. We provide information about this at our orientation session.
For safety reasons, you must be at least 15 years old to volunteer in our grocery center or special events.