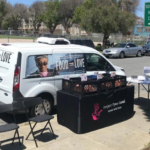 Website Project Open Hand
Project Open Hand collects and shares toiletries with their clients, many of whom struggle to afford basic needs. Please drop off new, full and sample-size toiletries (list of items needed below) at the Project Open Hand's location.
Project Open Hand also collects food for their clients. The food must fit the nutrition guidelines seen here: sodium – less than 5% DV or 140 mg per serving Saturated Fat – 15% DV or less No partially hydrogenated oils in ingredients. No high fructose corn syrup in the ingredients. Canned fruit in juice or light syrup only. Whole grains only. Ex: canned chicken, natural peanut butter, and light in sodium lentil vegetable soup.