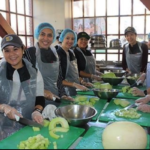 Website Project Open Hand
Project Open Hand's mission is to improve health outcomes and quality of life by providing nutritious meals to the sick and vulnerable, caring for and educating our community. As an essential services provider and public health partner, POH will continues to operate during this medical crisis and serve the community.
We are looking for volunteers to help us prepare and package meals at our 730 Polk St. location in San Francisco. Tasks include packaging and labeling prepared hot meals in containers and assembling frozen-meal bags.
One-time and recurring shifts are available for individuals and small groups.
Shift Day/Time:
8am – 11am, Monday – Friday
11:30am – 2pm, Monday – Friday
1pm – 3pm, Monday – Saturday
Important Information:
Minimum age requirement: 15
We are following strict social distancing guidelines, and each shift has limited space.
We are asking volunteers that are at higher risk for severe illness from COVID-19 or that live/work with people that are at high risk, to stay at home until the shelter-in-space order has been lifted.
Dress Requirements
Close-toed shoes
Shirts with sleeves (no tank tops or crop tops)
Full length pants (no shorts/no capris/no skirts)