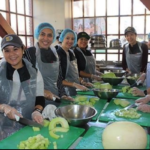 Website Project Open Hand
At Project Open Hand, we rely on more than 125 volunteers every day to help prepare, package and deliver meals with love.
Volunteers are needed to assist in industrial food preparation. This opportunity can include chopping, slicing, dicing, peeling, grating, and mincing of produce for use by POH Certified Chefs. Volunteers assist with labeling meal containers for distribution, packaging prepared hot/frozen meals in containers and bags. There may be additional seasonal kitchen activities related to community events or projects.
Qualifications:
At least fifteen (15) years of age.
TB test required.
Capable of standing for long periods of time and able to lift 20 pounds.
Able to work well with others and comfortable interacting with a culturally diverse population.
Shift Availability:
Monday-Friday, 12:30-3:30 PM
Dress Requirements
Close-toed shoes
Shirts with sleeves (no tank tops or crop tops)
Full length pants (no shorts/no capris/no skirts)