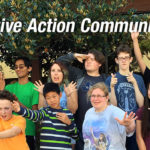 Website Positive Action Community Theatre
Volunteers from our community serve as peer mentors at our improvisational theatre and performing arts workshops, providing an inclusive environment where life and social skills are learned through observation and interaction in the creative and upbeat environment of the performing arts. Our success is in large part due to our volunteer involvement.
Our workshops encourage equality, respect and bringing out the best in ourselves and others, and they provide ongoing experiences of the fact that we are all much more alike than we are different. Our volunteers' lives are enriched by helping those with unique needs to live self-determined and happy lives.
If you're interested in volunteering, would like to observe a PACT workshop, or want to learn more about what we do, please contact PACT's Executive Director, Kathryn Campion, at 760-815-8512 or info@pacthouse.org. Kathryn is always happy to meet with prospective volunteers. Saturday workshops is tentatively planned for Spring 2021, from April 17 through June 5.