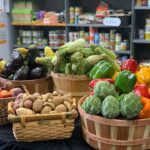 Website porch_community Porchlight Community Services, Inc.
Community Service credit is available, must provide court docs.
Our Food Pantry is staffed by volunteers, and it takes more than 125 volunteers each week to keep the Pantry running smoothly. Opportunities to help include supporting fundraisers, shelving food, shopping, picking up food from local stores, working at the Pantry during store hours, and administration.
Whether you choose to work directly with clients or in one of the many behind-the-scenes jobs, you can be sure that the work you do will make a difference in the lives of those served.