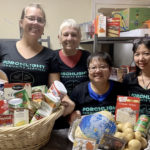 Website Porchlight Community Services
We are a network of volunteers who rescue food and re-distribute it to the community. We started back in 2016, by distributing free food on our neighbors' porches. Today, our dual food rescue and food pantry program is located in Kearny Mesa offering a Client Choice Pantry.
Our volunteers pick up excess, safe-to-consume food from supermarkets and other local businesses. Or you can drop off items at our office. We also accept non-food health and beauty products. Volunteers also help unload, sort, and organize the food pantry.