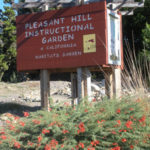 Website Pleasant Hill Instructional Garden
Join fellow gardeners working in the garden, ongoing, usually on weekends. This water conservation garden demonstrates native plants and uses no pesticides to provide wildlife habitat. We always are in need of an extra pair of hands to help with pruning, chipping, weeding, composting, mulching, raking, and other garden maintenance.
We also need someone who can stop by the garden during the week to observe and record both wildlife activity and human activity, taking photographs and keep a log for us, which we'll use for our web site, blog, and Facebook.
Requirements:
Must be at least 15
Orientation or Training
Bring drinking water, wear gloves & hat