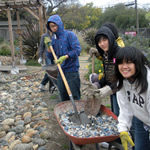 Website Pleasant Hill Instructional Garden
What to do with yourself?… that makes you feel better and also helps to keep the garden maintained! During the Shelter in Place being in a garden, being outdoors, and especially in a wildlife habitat helps to relieve stress and boredom. At the same time, know you are helping PHIG and your community!
We practice social distancing and ask you to stay at home if you are not feeling well. Please bring your own face mask, water, gloves, and if you prefer, hand sanitizer. We do have soap and water on hand for you to feel safe.
Our vision is to build PHIG into a community recognized resource with a water conservation demonstration garden. What was a community eyesore is being transformed into a natural and beautiful wildlife habitat that attracts birds, beneficial insects, bees, butterflies, and other pollinators.
PHIG provides a living laboratory for all students, of all ages, including students at the Pleasant Hill Education Center and Contra Costa County Master Gardeners
PHIG uses no pesticides or herbicides that degrade our air, soil, and water quality
PHIG is also simply a place to sit, relax and enjoy nature.
P.S. As an all-volunteer project, we need volunteers who would like to serve on our board or steering committee and/or work with other volunteers so please let us know what your interests are that could help the garden thrive.
You must be at least 13 years old