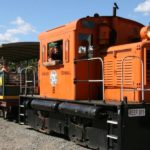 Website Placerville & Sacramento Valley Railroad
Come and be a part of the growing movement that is Placerville & Sacramento Valley Railroad! Mechanical staff are the backbone of the organization, ensuring that historic railroad equipment is safe to operate and for passengers to enjoy. Work on locomotives, rail cars, MoW (track maintenance) equipment, motorcars, automobiles and more to support everything that needs to happen to make excursion rail a reality.
Schedule:
-Workdays take place EVERY Tuesday and Thursday, as well as SELECT Saturdays.
-Volunteers are NOT required to participate regularly
-There is NO minimum number of hours required of our volunteers – just come when you can and have fun!
Requirements:
-Experienced railroad mechanics encouraged to apply
-Inexperienced individuals are encouraged to come and learn. We'll TRAIN you!
You must be at least 17 years old.
Organizational Overview:
Placerville & Sacramento Valley Railroad, Inc (P&SVRR) is a 501(c)3 nonprofit organization dedicated to preserving California's rich railroad history. P&SVRR is managed and operated entirely by volunteers.
Our mission is to protect, preserve and develop the Folsom-Placerville railroad right-of-way, celebrating its legacy through the creation of a sustainable community heritage railroad for the benefit, use, education and enjoyment of the general public. We operate scenic train excursions and motorcar rides year-round on portions of the Southern Pacific Railroad's historic Placerville Branch in the foothills of the Sierra Nevada mountains of northern California.
Over the last 5 years, year-over-year growth has averaged more than 25%, and significant growth is expected to continue during the next phase of development. This is an exciting time at P&SVRR, following a string of political developments that continue to favor expansion of the program and the addition of several more pieces to our growing collection of railroad equipment. This will include the first steam locomotive to run on the Placerville branch since 1957.
It has always been the vision of P&SVRR to become a World Class Railroad Attraction, and in so doing provide significant economic, educational and cultural benefits to the city of Folsom as well as other communities we serve in the region. There is no better time to assume a fulfilling and meaningful role at this community heritage railroad.