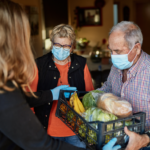 Website Placer Food Bank
Warehouse Assistants
What: We are seeking students to volunteer over the summer. Get a head start on your community service hours and pad your college/job applications.
When: Monday – Friday: 6AM – 2PM. This can be a flexible schedule based upon your availability.
Qualifications: Must be 16+ years of age.
Physical Ability: Able to lift up to 50 pounds.
Training: Full training is provided.