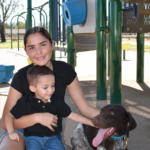 Website Paws 4 Success
Paws 4 Success is a nonprofit organization donating Service Dogs to those in need anywhere within the United States with a primary focus on our local Veterans. The organization acquires dogs from local shelters, rescues, and reputable breeders. Each dog is selected with a recipient in mind and with a specific job in mind. We choose the dog based on temperament, drive, intelligence, and the ability to grow and quickly learn new skills. Following a brief acclimation period, our volunteers begin teaching the candidates basic obedience and ensure proper socialization. Then work begins teaching the dog the specific tasks necessary to assist the client.
Paws 4 Success is seeking an individual to help manage our social media accounts (Facebook and Instagram). Our goal through social media is to help promote our organization, give people a clear understanding of the services we offer, engage with people through the content we post and build community support while growing a robust donor base through social media.
We prefer individuals who have experience with social media and know how to gain followers and maintain that following.
Please contact David Harrison directly at dharrison@paws4success.org or (951)903-4779.
REQUIREMENTS:
Background Check
Orientation or Training
We do not have a time requirement but would like this individual to remain active in our social media outlets and be responsive to questions posted.