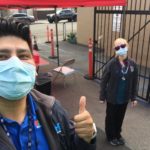 Website pathpartners PATH
Want to help your neighbors experiencing homelessness? Post for PATH and help us fundraise for the PATH Cares COVID-19 fund.
While the rest of California stays at home, many of our homeless neighbors don't have anywhere to turn. PATH will remain on the front lines to help our most vulnerable. We need volunteers like YOU to help us by posting for PATH and connecting our mission to your networks.
PATH serves over 20% of the homeless population in California, through nine interim housing shelters, 14 supportive housing communities, and dozens of outreach teams hitting the streets each day. All of these services will continue through the COVID-19 crisis. Many of those living on the streets are older, sick, or have underlying health issues. This is the group of people who are at the most risk of COVID-19. Now more than ever PATH's work is saving lives.
About this Event
We are asking you to virtually support our homeless neighbors in this time of crisis by:
1. Following us on social media
2. Posting on social media and tag PATH
3. Emailing or call your friends and family
4. Sending us a video telling us what home means to you