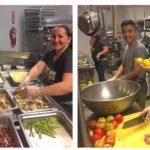 PATH (People Assisting the Homeless)
By providing a meal to someone in need, you are making a difference in the community and the lives of others. They prepare dinner every night of the week and need your help to serve it. Their goal is to create a welcoming restaurant atmosphere for their residents.
Volunteers serve each member with dignity and respect, making their dining experience enjoyable.
Responsibilities:
Set tables with plates, silverware, cups, and fresh fruit
Greet PATH residents with a smile as they enter dining hall
Create a welcoming atmosphere by chatting and connecting with the residents
Carry food trays to and from kitchen to tables
Deliver desserts to tables
Bus tables after meals are completed
Notes:
Masks are required
Casual and comfortable clothing and closed-toe shoes