Anywhere
December 31, 2021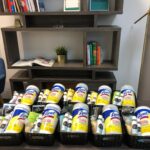 Website pathpartners PATH LA
PATH is ending homelessness for individuals and communities.
Want to help say "Welcome Home" to some neighbors in need? PATH is opening new sites and needs your support! Help assemble Welcome Home Kits for individuals who experienced homelessness that are moving into a new permanent home.
When you express interest for this opportunity, we will follow up with how to purchase supplies through our Amazon Charity List or how to schedule a donation drop-off.
Help our new residents feel safe and comfortable in their new home by providing a "Welcome Home Kit" filled with basic home goods, kitchen items, and cleaning supplies. Welcome Home Kits are critical, especially amidst all the uncertainty of the pandemic. These kits not only meet our families' essential needs, but they ensure that their space truly feels like home. Kits can be as barebones or robust as you would like. Every donation helps!
Urgent Needs:
All-purpose cleaner
Dish soap
Sponges
Kitchen items (pots, pans, utensils)
Bedding
Laundry Hamper
Target gift cards
*For health and safety reasons, all Welcome Home items must be new & unopened.