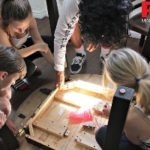 Website PATH
Help welcome our clients into their new homes!
The Welcome Home Program is an opportunity for our community to connect with people who have moved off the streets, out of shelters, and into their own home. But for people to have truly Made It Home, they need the tools to be successful in this new chapter of their lives. Gather up some friends, some furniture, and share a few hours of your time to transform an empty apartment into a warm and welcoming home for one of our clients.
In helping with this step of moving into permanent housing, you can help someone get a good night's rest before a job interview. You can help someone save money for rent. You can help our clients feel at home.
More information here:
http://site.epath.org/site/GetInvolved/welcomhomeprogram.htm
REQUIREMENTS:
About 1 month to coordinate furniture donations
You will then coordinate a "move-in" party with PATH staff to meet at the client's home for 4hrs