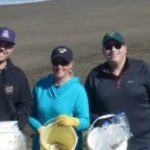 Website Pacific Beach Coalition
Our goal is to get as many Earth Heroes as possible to cleanup a location of their liking and inspiring others, while staying safe and respecting County and State orders.
What are the "Street to Beach" cleanups?Simply put, it is a cleanup by yourself or with family and/or housemates with whom you have been sheltering in place. It can be around your neighborhood, at the beach, in a needy area, or anywhere actually. You could even "adopt" a specific location in need and care for it on a regular basis.
Please Note: If you do a cleanup, you are doing it on your own accord and personally accepting any and all risks.
Why should we do this?Neighborhood and street cleanups are fun and rewarding outdoor activities for you and your family or your other quarantine partners. Picking up litter from the streets keeps it from flowing into the ocean via our storm drains. We are now finding lots of litter, plastic bags, wrappers, disposable gloves, masks and food containers on our beaches and throughout the neighborhoods.
How can we help?It is very easy! Make sure you have all your supplies ready, and go out! Don't forget to let us know how much trash you collected so that we can add it to our total. Remember every single piece count!
Follow these 4 steps to have a safe and fun cleanup:
1. Go on our website to sign the online waiver
2. Grab your supplies (bucket, gloves, pick up sticks)
3. Go outside near your home
4. Record the trash you got via the Clean Swell app (or more ways to log the trash on our website)
Thank you for caring!
Pacific Beach Coalition