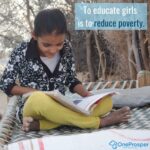 Website OneProsper
English Learning Buddy Program
The Problem
Girls from low income families in India aspire to speak English but do not have anyone within their families to practice speaking English.
How it Works
Students sign up to be an English Learning Buddy
Expected Time Commitment: 30 minutes per week for 10 weeks beginning late January
Buddies will be matched with a girl from a low income family in India
Buddies and students will connect weekly via Google Meet or Zoom meetings
Meeting Schedule: Saturday 8:00 pm PST to 8:30 pm PST
Students in India will read from an English children's book while Buddies provide constructive feedback on pronunciation.
At the end of the 10 week program, Buddies will receive volunteer service hours.
OneProsper International is a US 501(c)(3) non-profit focused on girls education.
Please note that this volunteer opportunity is open to girls in middle and high school.
Over 100 students are currently volunteering!
Our existing volunteers are attending independent schools in the Bay Area including: Convent High School, The Head-Royce School, The Branson School, Marin Academy, The Quarry Lane School and Basis Independent Silicon Valley
Please sign up on our website
www.oneprosper.org