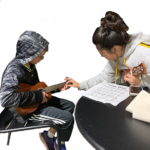 Website Notelove
CALLING ALL TEEN MUSICIANS! Notelove is a non-profit organization aiming to give music lessons to low income kids in the Bay Area. If you are a high school student who is musically inclined and wants to give back to your community (and receive volunteer hours!), apply to be an instructor at Notelove! Although this is a virtual opportunity, we are currently only looking for teens in the Bay Area. If you reside anywhere else, please fill out this application (https://forms.gle/7xmxGbZWnLWiQbGr6).
Requirements:
Must be at least 14
Must be willing to commit to teaching a student long term
Have at least 2 years of playing experience
For details about this opportunity, visit forms.gle.