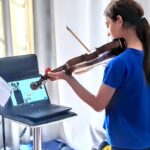 Website notelovesocal Notelove Socal
We provide high-quality music lessons to children in SoCal.
CALLING SOCAL TEEN VIOLINISTS! Notelove SoCal is a non-profit organization aiming to give free music lessons to kids in Southern California. If you are a high school student who is musically inclined and wants to give back to your community (and receive volunteer hours!), apply to be an instructor at Notelove SoCal!
NOTE: Although we are currently operating over Zoom, our chapter is only open to SoCal volunteers. DO NOT apply if you do not live in SoCal.