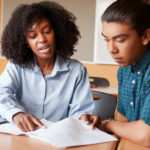 Website Nile Sisters Development Initiative
We are looking for experienced and passionate tutors to work with us in the following two areas:
After-school program: Tutors needed to help students with homework assistance and facilitating programs in arts, wellness, and social skills. Tutors will be needed after school on Wednesdays.
One-to-one adult focus: Tutors needed to help teach English to help develop reading, writing, and verbal skills. The skills they will gain from this tutoring will help prepare them for school, vocational training, and everyday life. The tutoring is on an as need basis for the client and will be focused on English acquisition for reading and writing.