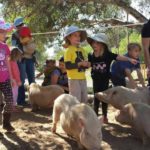 Website New Life Animal Sanctuary
Note: Social distancing is easy while volunteering!
New Life Animal Sanctuary is a 501c(3) nonprofit which focuses on rescuing and rehabilitating animals from laboratories. We are looking for passionate, dedicated animal lovers to join our team of animal caretakers! We need volunteers to muck stalls, clean enclosures, prepare and distribute food for the animals, and give the animals lots of love. We need volunteers that commit to at least one (2-4 hour) shift per week, for a minimum of 6 months. If that's you, please reach out!
Requirements:
Must be at least 16
Training is required