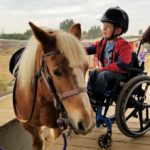 Website NDR Therapeutic Riding
NDR Therapeutic Riding's mission is to provide equine-assisted activities that are focused on providing people with disabilities/limitations the unique opportunity to enhance their physical, social, and emotional abilities. Our volunteers donate their time and talent rewarding all at NDR with strength and hope.
Lesson volunteers are needed to assist instructors and students in tacking horses, preparing horses for lessons and walking with horses during lessons with our students. You will have the opportunity to assist children and adults with a variety of disabilities as they strengthen, learn and grow through therapeutic horseback riding. Get involved with us and make a difference in the lives of people with disabilities/limitations.
Requirements :