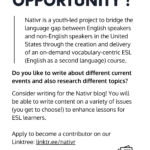 Website Nativr
Nativr is a youth-project to create a on-demand ESL course.
Interested in helping others learn English?
Nativr is a student-led project to create a 100% free, on-demand English course targeting English learners in the United States. Lessons are based around vocabulary-building for everyday usage and conversation.
Contributors will be expected to put in around 1-2 hours per week to complete a variety of tasks, depending on the team they choose to work with (see below for list of teams). Time spent will come down to how efficient you are at completing tasks. The Nativr team will communicate at-large both through e-mail and Google Classroom.
Contributors will have receive:
• Google Classroom access
• Volunteer hours
• Feature on website when launched (name, position, short blurb, social media handles)
Nativr teams
• Audio/Video
• Content
• Curriculum
• Operations
• Outreach
• Translations
For details about this opportunity, visit linktr.ee.