Anywhere
This position has been filled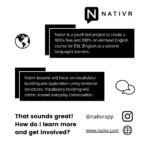 Website Nativr
Nativr is a youth-project to create a on-demand ESL course.
Interested in helping others learn English?
Nativr is a student-led project to create a 100% free, on-demand English course targeting English learners in the United States. Lessons are based around vocabulary-building for everyday usage and conversation.
Contributors will be expected to put in around 1-2 hours per week to complete a variety of tasks including curriculum planning, lesson creation, and research. The Nativr team will communicate both through e-mail and through Discord. Regular Discord calls will be held weekly (attendance, for the most part, is optional).
Contributors will have receive:
• Discord server access
• Curriculum planning & lesson creation resources
• Feature on website when launched (name, position, short blurb, social media handles)