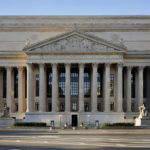 Website National Archives and Records Administration
Volunteer to tag and transcribe records for the National Archives to make them more searchable and discoverable.
As we add tags or transcriptions to records – all of those words are added to our catalog and it helps improve search results. The added benefit is that we're unlocking the sometimes difficult to read text for all to understand. By adding this metadata to our Catalog, it also becomes searchable in Google or other search engines, which helps to make our records more discoverable online. We like to say that as we tag and transcribe, we are unlocking history.