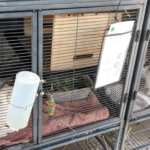 Website Napa County Animal Shelter & Adoption Center
Thank you for considering our volunteer program! We know your time is valuable an d appreciate your interest in wanting to help our shelter animals. Volunteers play an important role in the socialization and enrichment of our shelter's animals. Additionally, volunteers are instrumental in our foster and outreach programs. Without the assistance of volunteers, many of our programs would not function.
To be a volunteer at the Shelter without the presence of a parent, you must be at least 15 years old. If you wish to volunteer and you are between 10 and 14 years old, a parent must accompany you. In this case, both the parent and child must fill out a volunteer application and both must attend the volunteer orientation held monthly, the first Saturday of every month, starting at 8:45 AM. Additionally, any volunteer under the age of 18 must have parental consent and signature.
If you wish to be a volunteer you must read the Volunteer Manual when you click to inquire.
After reading the manual, please complete the Volunteer Application, and send in or drop off your application and we will make arrangements for you to be trained with one of our lead volunteers.